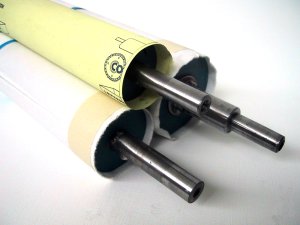 From Kelseys to Heidelberg Windmills, NA Graphics has rollers for you.
Press sizes are determined by measuring the inside dimension of the chase. Thus, a 10x15 C&P, also called a "platen" press, has an actual chase measurement of 10x15, and the "platen" measures 11 1/8 x 18 1/8, in inches. Please use the chase dimension only when ordering rollers for your "platen" press. Please do not measure the platen of your press for roller sizes--if you're not sure what the chase or platen is, please call us for an explanation.
Please note that our inventory of rollers is constantly changing, and though we try to maintain a working inventory of the most popular sizes and types of rollers, there are times when we are out of stock on certain items. To avoid disappointment, please call (970) 387-0212 to verify availability, especially if you are facing production deadlines or have a critical need.

Please use these prices as a relative and not absolute guide as to current charges. If you last bought Kelsey rollers back in the 50s or 60s for under $10 each, then prepare yourself for sticker shock.

We can furnish rollers for presses not shown in this list for presses like Heidelberg Cylinders, Little Giant, various table top presses, Pearls, and Goldings. For those wishing to have rollers recovered for rarer presses, it may be helpful to send your trucks, if applicable, along with your cores. Please call us at (970) 387-0212 or email us at info@nagraph.com. Your press may have acquired non-standard cores and trucks over the years, especially the table tops and C&P presses, so we may ask for detailed information for measurements before completing your order.
Our rubber rollers are made from Buna-N, a synthetic rubber that is widely used for printing rollers. We specify a softer material (measured in terms of a Durometer reading) that is in the 20/22 range. Regular letterpress rollers made by most companies are made to a Durometer of 25, and offset rollers are harder at 28. These harder rollers will not work well in letterpress, especially with numbering machines. We do offer a less expensive but harder Heidelberg roller at a Durometer of 25, but we do not recommend those rollers for any critical work where ink transfer is of paramount concern. These rollers are not affected by humidity or swelling or shrinking. Rollers on or off the press should not be exposed to direct sunlight.
Before You Ship Your Rollers...
Please check with us before shipping rollers. As a rule, it is less expensive to furnish new cores for Kelsey and C&P rollers. We recover Heidelberg, Kluge, and Vandercook cores. In addition, it is strongly advised not to ship rollers in wooden boxes, as these will invariably be damaged in transit. UPS also charges an additional fee to handle wood boxes. We maintain a stock of new cores at our roller makers for C&P, Heidelberg, Kluge, and some Vandercook presses, but not for table top presses--those are all custom manufactured (Sigwalt,Golding, etc.). PLease include your name, address, and what you want us to do on a note inside the box--we get numerous mystery packages of rollers and some we have no clue as to what we are supposed to do. We are old and decrepit and failed our last mind reading refresher course.
Roller Wash
Do not use gasoline, kerosene, benzene, mineral spirits (paint thinner) or similar petroleum distillates on any roller supplied by us. A water-miscible roller wash, which we sell, or that can be obtained from any other source, is the only recommended cleaner for the synthetic rubber compounds currently being used. Our traditional letterpress solvents are too harsh on these rollers and will cause premature failure, swelling, pitting, etc. Water miscible means that water can be mixed with the cleaner to reduce the strength and aid in the removal of paper fibers and paper coatings on offset presses. Use of any cleaner other than standard roller washes voids all warranties on new rollers. New rollers may last many years if proper care is taken with them.
Prices listed are per roller. Rollers are not sold in pairs or sets. Each roller for platen presses requires 2 trucks, and trucks are priced and sold by the each unless otherwise stated. Note that there is no charge for additional boxes--rollers are drop shipped from the roller maker, or if from our stock, in cardboard boxes. We do not use or charge extra for wood boxes.
Cores listed are for the steel shaft only and do not include the covering or any accessory parts. Some cores, like many of the ones used on Vandercooks, are complex and costly to manufacture. Every effort should be made to reuse existing cores unless damaged with the exception of C&P cores as noted above. If in doubt, call us.