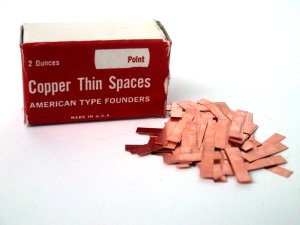 Copper (1/2 point) Spaces.
Note that we presently do not have a supply of coil, or uncut, copper on hand. We have only a few sizes of cut copper available and in vary small quantities. We have not decided yet if we will get a new supply of copper. It is a several thousand dollar investment. We do have a several year supply of new brass on hand for the one point spacing. --May of 2019.
Copper thin spaces are precision cut and provided in two ounce packages. For larger orders and economy, order by the pound!